The middle school basketball season came to an end in Rutherford County this past weekend at the 5th annual TMSAA Basketball State Championships. Sectional champions in 3 classes, totaling 24 teams, fought it out in semifinal games held Friday, February 10 on the campuses of Stewarts Creek High & Middle School and Rockvale High & Middle School. Semifinal winners advanced to championship games on Saturday, while the remaining teams competed in consolation third-place contests.
"It is always exciting to watch these young athletes get the opportunity to compete at this level," said Richard McWhirter, TMSAA Assistant Executive Director. "We have 382 member middle schools playing basketball," added Emily Crowell, TMSAA Assistant Executive Director, "so whether they finish 1st or 4th, each of these qualifying teams should be proud of their seasons for making it to the final four in their class."
New Center: Class AA Girls' Champions
Upperman: Class AA Boys' State Champions
In Class AA, New Center Elementary claimed the girls' title with a 48-43 win over Charlotte Middle. Martin Middle earned third-place honors with a 61-37 defeat of Memphis Business Academy. For the boys' championship, Upperman Middle defeated Sweetwater Junior High 43-30. Martin Middle won the third-place trophy with a 64-39 win over Kirby Middle.
Class AA Boys' Championship
Blackman: Class AAA Girls' Championship
Elmore Park: Class AAA Boys' Championship
Blackman Middle School girls' won their second consecutive Class AAA championship, beating Alcoa Middle 53-47. West Collierville Middle claimed third place for the girls, beating Gladeville Middle 49-40. Elmore Park Middle boys' claimed the boys' Class AAA title with a 61-56 victory over Mt. Juliet Middle. Brentwood Middle defeated Maryville Middle 55-46 to win the third-place trophy.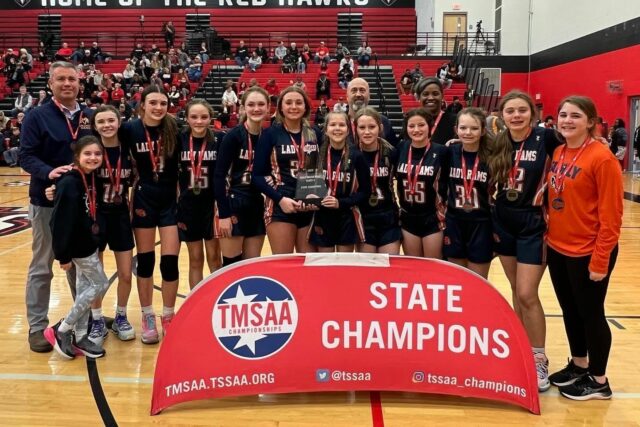 Englewood: Class A Girls' State Champions
East Nashville: Class A Boys' State Champions
Englewood Elementary won the girls' Class A championship, defeating Rogersville City School 41-32. In the third-place game, Humboldt Middle held off East Robertson Middle 31-27. East Nashville Middle claimed the boys' Class A crown with a 47-29 win over John P. Freeman Middle. Riceville Elementary defeated Newport Grammar 38-30 for third place.
For complete results and game stats, view the brackets here. For more photos of the championships, click here.
Class AAA Girls' Championship